Samrin Trade offers to buy golden raisins wholesale. Our dried fruits have a pleasant golden tone, which is the result of drying the bright sorts of grape (sultana). All the dried fruits by Samrin Trade have all the necessary quality certificates, and undergo strict control on all the production stages and customs passing.
Description
The delivery of raisins is carried out worldwide, using the fastest and the most convenient ways: by sea, railroads, or with the help of road transport. To achieve the golden colour of the raisins, a sulphur dioxide is used in the production process. In the final product, the amount of this preservative does not exceed the EU standard of 2000 mg/kg.
Sizes: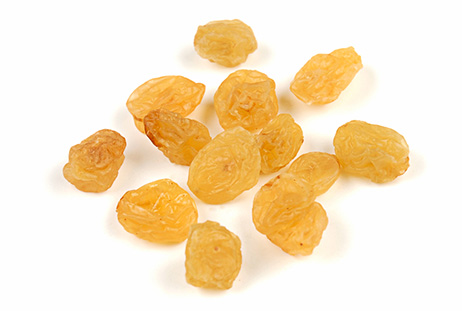 250-350 berries
per 100 grams
What are the golden raisins?
There are many sorts of raisins, but the essence of these dried fruits remains the same. Just like any other sort, the golden raisins are obtained in the process of grape drying. In this case, the bright sorts of grapes are used. The drying can proceed either naturally (sun drying), or by using special drying devices. Raisin drying usually takes much longer time than e.g. apricot drying, and takes approximately 40 days.
The beneficial features of golden raisins
Just like any other dried fruits, raisins contain a lot of glucose and fructose. This fact makes raisins an irreplaceable part of nutrition of the athletes, bodybuilders, and those who daily consume a lot of energy. Vitamins, amino acids, and minerals (e.g. selenium and phosphorus) allow the golden raisins to ease the digestion of other nutrients and proteins. The doctors prescribe raisins to help curing such diseases as acidosis, arthritis, heart diseases, kidney stones, and hair loss.
The use of golden raisins
Alongside with the dark raisins, the golden raisins are widely used in making of flour and culinary products, in homemade tinctures and compotes. Raisins have enriched the recipes of many desserts: puddings, ice cream, pies, casseroles, muffins, and many more. The golden raisins are also actively used in making of curd desserts and Easter baking. Unlike some of the other raisin sorts, in process of compote making, the golden raisins give away all their taste; even a small amount of these dried fruits is enough to create a sweet and tasty drink.
100 g of the product approximately contain:
Carbohydrates
Sugar
Dietary fibers
67,80 g
65,90 g
1,90 g
Proteins
2,3 g
Fat
Saturated fat
0,1 g
0 g
Energy value
1139 kJ /
272 kcal
Production
Main stages of production:
Vibratory separator

Cascade wash

Drying

Calibration

Laser scanner

X-ray apparatus

Manual sorting

Packing and metal detector