Samrin Trade offers to buy black raisins wholesale from Uzbekistan. The black ones are the most natural dried grapes. The grapes are dried in the shade, without using any preservatives. Our black raisins have natural, rich, sweet taste, and undergo various quality control checks on all the production stages.
Description
Samrin Trade will deliver the products anywhere in the world, using the most appropriate means of transportation: by sea, by railroads, or by conventional roads.
Humidity: not more than 20%.
Size: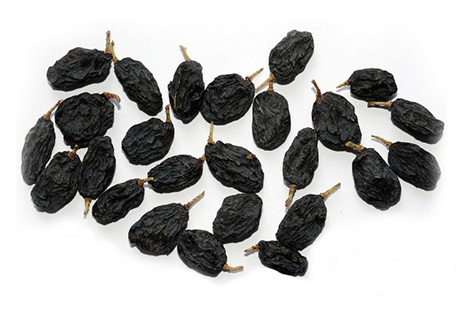 from small
to 3 cm in length.
The difference of the black raisins from the other sorts
grapes after drying in the shade. Such dried fruits are the healthiest, and they retain the maximal amount of beneficial and nutritious elements existing in the grapes.
Beneficial features of the black raisins
Black raisins are full of beneficial elements. Aside from the lots of potassium and iron, the raisins are full of vitamins of the groups A, B, C, E, and K. Black raisins are a perfect natural antioxidant: those who eat black raisins regularly are less likely to have caries and problems with the mouth cavity. Black raisins positively affect heart work; they are used to cure anemia and general weakness.
The use of black raisins
Traditionally, the black raisins are used in cookery and in home medicine. They are a vital ingredient in the cuisines of many nationalities: it is hard to imagine traditional Uzbek pilaf or lentil soup without the black raisins. Often the raisins are used in making of different bakery products, meat sauces, and desserts. Medical properties of the black raisins help to cure coughing, bronchitis, pneumonia, and hypertension, and to prevent heart diseases.
100 g of the product approximately contain:
Carbohydrates
Sugar
Dietary fibers
79.18 g
59.19 g
3.1 g
Proteins
3,07 g
Fat
Saturated fat
0 g
0 g
Energy value
1676 kJ /
400 kcal
Production
Main stages of production:
Vibratory separator

Cascade wash

Drying

Calibration

Laser scanner

X-ray apparatus

Manual sorting

Packing and metal detector