Buying green raisins from Samrin Trade is the easiest way of getting qualitative and tasty dried fruits that meet the standards of the EU. Our products undergo thorough control with different scanners on all of the production stages, and when passing the customs.
Description
From us you can purchase green raisins wholesale, in amounts from the 1 ton. The delivery is carried out worldwide, by means of ships, trains, or trucks.
Humidity: not more than 17%.
Size: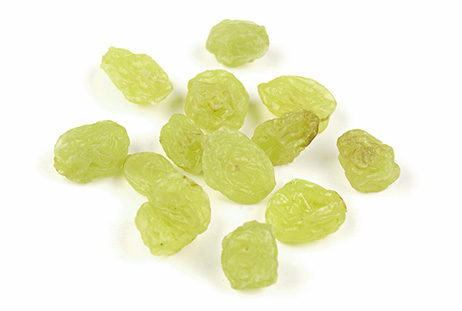 250 – 350 berries
per 100 grams
What are the green raisins?
As a rule, the bright sorts of raisins come out when sulphur dioxide (preservative E220) is used in the production process. In this case, we use a special, bright sort of grapes, as well as a special technology of drying grapes in the shade. As a result, we get beautiful green dried fruits that differ from the others not only by the unusual colour, but also by the flavour characteristics.
The beneficial features of green raisins
Because green raisins are obtained in the natural process of drying (i.e. no preservatives are used), they contain all the beneficial features that are characteristic to the raisins. Among such features we can name the rich reserves of vitamins of different groups (A, B, C, E, K), and a big amount of important micro elements, i.e. iron, zinc, calcium, magnesium, phosphorus.
The use of green raisins
The green raisins, just like any other sort of raisins, can be widely used in cookery, in making of flour and confectionery products. Thanks to the distinct look and taste, these raisins are quite often used in desserts, decorating them and giving them the dried fruit aroma. Many use green raisins for the prevention of the heart diseases, anemia, and sleep disorders.
100 g of the product approximately contain:
Carbohydrates
Sugar
Dietary fibers
67,80 g
65,90 g
1,90 g
Proteins
2,3 g
Fat
Saturated fat
0,1 g
0 g
Energy value
1139 kJ /
272 kcal
Production
Main stages of production:
Vibratory separator

Cascade wash

Drying

Calibration

Laser scanner

X-ray apparatus

Manual sorting

Packing and metal detector